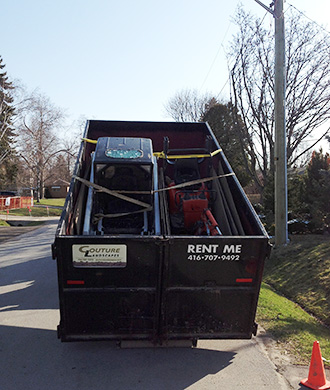 Couture Landscapes continues to provide unparalleled service and unmatched satisfaction to clients throughout the Greater Toronto Area. Our superior level of customer satisfaction and beautiful landscaping services has put us far beyond our competition.
With a well-planned and designed landscape, any outdoor environment or green space could be turned into a wonderful oasis. Our years of combined hands on experience have given us the skill and expertise of a large landscaping company, while offering affordable and professional service to our customers.
We not only offer quality landscaping design and installation services but many related services as well, including irrigation, yard drainage, walkways and retaining walls.
We provide landscaping services to the Burlington, Oakville, Etobicoke, Port Credit, Milton and Mississauga regions within the GTA.
We also provide bin rental / junk bins / disposal bins / waste bin rental services to Burlington, Oakville, Mississauga and Etobicoke regions.
Do not hesitate to contact us at admin@couturelandscapes.com or by phone at 416-707-9492.