As one of the most reputable and experienced Mississauga landscaping companies in the area, Couture Landscapes continues to provide unparalleled service and unmatched satisfaction. Our superior level of customer satisfaction and positive results has put us far beyond our competition.
With a well-planned and designed landscape, any outdoor environment or green space could be turned into a wonderful masterpiece. Our years of combined hands on experience in the field have given us the skill and expertise of a large landscaping business, while offering personable and courteous service to our customers.
If you're looking to transform your plain backyard into a family retreat, we can make it happen. From the intricate details on the flowerbed to the impeccable quality of the stone work, we will ensure you are satisfied with what we leave you with. We've become one of the trusted Mississauga landscapers and we're only here to excel at that.
Below are a few of our core landscaping services, please see below:
Bin Rental Services – Couture Landscapes bin rental is perfect for all of your residential, commercial and construction disposal needs. Whether you are cleaning up or cleaning out, if you need a garbage/dumpter bin call today for fast and friendly delivery and pick up service. We stand behind our clients with exceptional bin rental service and affordable prices. Our staff are on time, well organized and very courteous to our clients.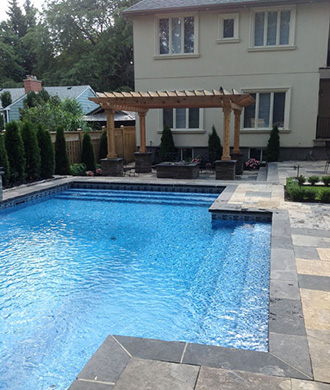 Stunning Landscape Design & Construction – Our landscape designers and installers have many years experience in creating beautiful and functional landscapes and hardscapes in the Oakville, Burlington, Milton and Mississauga regions. From the beginning of each landscaping project, our emphasis has been on meeting our customers' needs in ways that are affordable, practical and beautiful.
Irrigation Systems & Drainage – With rising concerns over water consumption and municipalities imposing water taxes, an irrigation system is becoming a must. The proper design, equipment, material and installation are important to have an irrigation system that will last for a long time to come. We highly specialize in drainage solutions and can provide solutions to meet all your needs.
Walkways / Patios / Decks / Interlocking – Whether small or large, we can find the appropriate stones with the right color, design and texture to match the subtle overtones of the landscape. Finding the right material is not enough, as correct design, placement and planning is required for the perfect finish.
Retaining Walls – A retaining wall is meant to keep the soil away from specific parts of your landscape. We build durable retaining walls that abide to city building codes.
As a Mississauga landscaping company, we strive to provide the best service in the business, regardless of the scale of the project. For all your landscaping needs, please give us a call today at 416-707-9492 and speak to one of our professionals.