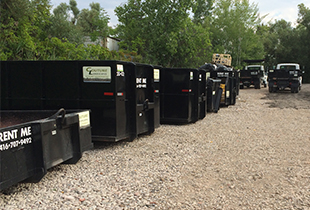 Great Disposal Bin Rates!
We offer very competitive rates! $180 delivery of your bin along with $95 per metric tonne for the weight of the waste. We also offer flat rates. Contact us today to order your disposal bin!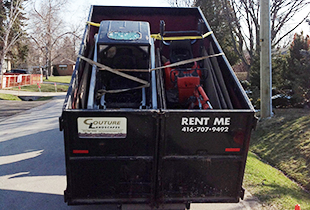 Rental Bin Sizes
Couture Landscapes offers many various sized disposal bins, to match your needs. We offer 7 yard, 8 yard, 16 yard and 20 yard bin sizes. Contact us today to order your disposal bin!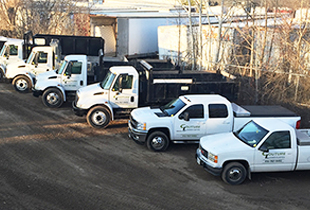 Why Choose Couture?
Couture Landscapes is fully insured, locally owned and operated company. Our disposal bin rentals are perfect for all of your residential, commercial, industrial and construction disposal needs.
Couture Landscapes provides affordable waste bin rentals in Etobicoke and the surrounding area. With years of experience in the rental of disposable bins, Couture Landscapes is able to meet both small and large scale waste removal needs.
Whether you're cleaning up your home or undertaking a large home renovation project – we have many different sized bins available for you.
If you are looking to rent a dumpster or waste bin in Etobicoke – just give us a call and we'll help you select the right sized junk bin. Every landscaping, construction, renovation and junk removal project is different, so choosing the right sized bin is important. Once we've helped you choose the size, we'll have it delivered to your address and setup just where you need it.
Our team makes it very quick and easy to choose a rental waste bin and have it delivered to your place.
With all our disposable bin rentals, you can expect timely, honest and courteous service. Etobicoke is widely known for its elegant and upscale homes – so why keep things you no longer need and clutter up your home?
A lot of the junk and waste that is removed from homes is recyclable, which not helps the environment, but also saves money in terms of disposing fees. These cost savings which are passed along to our customers is one of the ways we're able to offer the lowest price for waste bin rentals in Etobicoke.
Are you ready to rent your waste bin in Etobicoke? Give us a call at 416-707-9492 and ask us about our different sized heavy duty waste bins that we have available for rent.