Couture Landscapes is an Oakville landscaping company providing a multitude of landscape design and installation services. With years of unmatched customer satisfaction in the industry, we're one of the city's most recommended landscapers. Our full suite of landscaping services and exceptional customer service has made us the first call for many Oakville residents looking for landscaping services.
We not only work for you, but with you to ensure that every single aspect of your needs are met. Whether it's a minor detail to the design or major landscaping aspect, we'll work hard to make sure it is just how you like it. Time after time, we've only provided exceptional quality and service for any project we've laid hands on.
As one of the premiere Oakville landscapers in the area, we carry pride in offering professional, timely and functional services at a price that is far superior to our competitors.
We employ dedicated professionals who have years of combined experience in landscaping, irrigation and yard drainage. We also own and operate several large machines, tools and equipment which make it convenient and affordable for us to take on both small and large scale projects.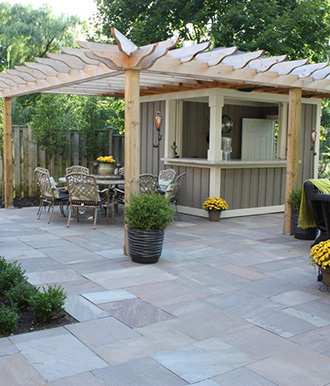 With a large variety of quality stones to choose from, you can make any walkway look like a work of art. However, the right set of skills, designing and planning is needed to implement the whole concept. We can promise to offer an exceptional level of quality, service and price.
When building staircase structure or working on landscaping, you may need a retaining wall built. We have a proven track record for building durable retaining walls that meet industry standards and codes. You can rest assured that once we have completed your project, it is completely safe for you and your family.
Many people are unaware, but proper landscaping requires a considerable amount of planning, designing and intricate attention to detail. A host of minor details can help compliment the look of your home, and it's these little things that we work to uncover. Our hard work and consistent effort will ensure a finished product that will just amaze you and your neighbours.
As your professional Oakville landscaping experts, we're always a phone call or email away. For more information or a free estimation on our services, don't hesitate to give us a call at 416-707-9492.