Interlocking driveways are aesthetically elegant and they provide your home with an upscale look. Couture Landscapes can quickly transform your pathway, driveway, patio or sideways with the perfect style of interlocking stones. Over the years, we've been providing homeowners with beautiful outdoor landscaping complimented with the right color, style and texture of interlocking stones.
Whether it's your driveway, walkway or patio area – we only use the best quality interlocking materials to ensure complete durability, strength and longevity. The outdoor living space along with your driveway and pathways will be part of your home for years to come.
As such, it is important that you consider the many design choices that are made available to you. We have a vast selection styles that will compliment the architectural beauty of your home!
Couture Landscapes has samples of various styles of interlocking stones – making it easier to compare and contrast with existing garage doors, landscapes, outdoor structures as well as brick color.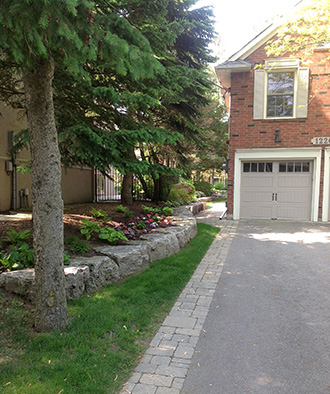 Our initial consultation would allow us to understand your design and style preference as well as our specific needs for the project. When creating an interlocking driveway, we need to consider whether the current driveway is paved or covered by gravel. With the proper pre-construction work underway, we can confidently complete your project on time and under-budget.
Couture Landscapes has built a strong relationship with its customers over the years, primarily through the consistent level of service and expertise. Our commitment to our customers is our promise to deliver only the best in quality and value, while ensuring their complete satisfaction from start to finish.
Every interlocking driveway, pathway or living area is appropriately constructed with complete sealing. Couture Landscapes also provides complete design and construction of retaining walls, patios, gardens and greenery – all of which can help compliment the style and color of your interlocking stones.
If you are interested in our landscaping and interlocking driveway services in Oakville, please call us today at 416-707-9492.