Couture Landscapes is a full service landscaping company providing landscape construction and design, gardens and planting, waterfalls and ponds as well as swimming pool landscaping.
With years of landscaping experience, we are your number one experts for all types of landscaping work around the home. Offering the expertise and quality of a large company, while remaining a professional and customer-oriented small business is one of our strong suits.
Our team of experienced swimming pool landscapers in Oakville can promise to deliver the best in aesthetics and quality for your backyard or pool area. With appropriate pool landscaping designs and construction, we can enhance the look of your outdoor living space. Whether you have an in ground or above ground pool, we can definitely help create a livable space around the pool.
We work one on one with our clients to ensure that they are satisfied throughout the pool landscaping process. It is one of the ways by which we promise the best value for money, while ensuring complete satisfaction of the project. We only use the highest grade materials and tools, maximizing the value for our customers.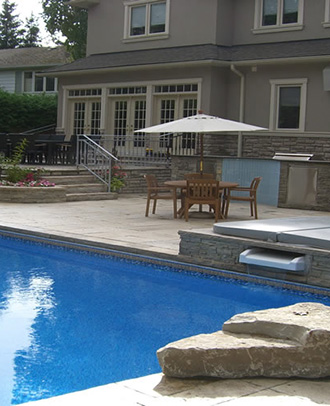 With years of experience in landscaping in Oakville, we're confident in being able to create unique pool landscaping designs for your home. With our help, you will be sure to surprise your neighbors with the enhanced look of your poolside.
Whether you're a fan of interlocking stones or breathtaking greenery, we can compliment your pool landscaping with the things you prefer.
Couture Landscapes can quickly convert your backyard or swimming pool area into your very own vacation getaway. With the right selection of landscaping ideas, we can redefine your living area, turning it into an upscale and comfortable oasis.
We are fully-licensed and stand behind the quality of work we deliver. It is one of the reasons why we get to enjoy the satisfaction of being able to work with many repeat customers and referrals. Whether you're in need of landscaping for your poolside or any area of the home, don't hesitate to contact us!
For all your swimming pool landscaping in Oakville, please Couture Landscapes at 416-707-9492 for a free estimate.