Couture Landscapes has been working with homeowners all across Oakville and the surrounding areas – creating extraordinary outdoor living spaces. With years of landscaping experience in both the design and construction of landscapes, we're confident we can turn your outdoor living space into an elegant oasis.
We understand how important it is for you to relax in the comfort of your own home, while enjoying complete privacy. Our landscaping experts in Oakville have worked with a plethora of homeowners in the area, giving them the hands-on experience that is needed to take on projects of any scale.
At Couture Landscapes, we enjoy creating beautiful and upscale outdoor living areas that provide years of memories and enjoyment. Whether it's the front facing yard or the backyard, we can definitely help create a unique landscape design.
With a combination of your personal preferences and our landscaping expertise, we can design and construct beautiful landscapes around the home.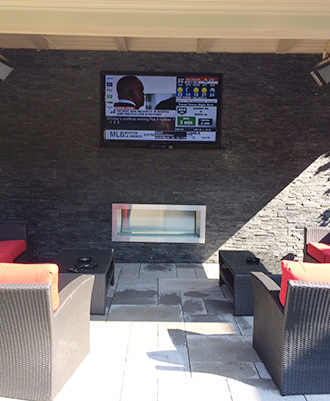 The construction process behind the revamp of an outdoor living space requires masonry, drainage, compaction and structural knowledge. Couture Landscapes brings award-winning building skills and only uses industry standard materials and equipment for all projects. You can be confident in our work, knowing we stand by the finished quality of all our projects.
With proper coordinating with municipal codes, building permits and city regulations – we will ensure total legality of all the work that is completed on your home. Our years of experience in Oakville landscaping has allowed us to efficiently and effectively carry forward related services including irrigation, sprinkler systems, electrical work, etc.
Our landscaping experts in Oakville are known for their professional, courteous and honest service. As a business that builds its reputation on customer satisfaction, we are proud to work with the many repeat customers and referrals. Couture Landscapes serves nearby regions including Burlington, Milton and South Mississauga.
We are proud to offer homeowners with exceptional quality outdoor living spaces that they can share and enjoy with their family and friends. Our experts can provide you with complete gardens, patios, pool landscaping, outdoor structures, retaining walls, outdoor lighting – all with superior craftsmanship and quality.
If you have an outdoor living space that is need of some upgrades, please call us today for a no-obligation estimate, at 416-707-9492 or contact us online!