Couture Landscapes is an Oakville based landscaping company offering residential landscaping including retaining walls, gardens and patios, outdoor structures, interlocking walkways and pool landscaping. With years of combined experience in creating upscale outdoor living spaces, we are your go-to professionals for all styles and designs of interlocking walkways in Oakville.
For years, interlocking stones have provided homes with a rich and upscale presence, while keeping the architectural beauty of the home intact. With the many styles, colors and design concepts to choose from, you will always be able to find one that suits you and your home.
When designing and constructing an interlocking walkway, we begin by assessing the area in which it will be built. It allows us to better understand the materials needed along with the time required for the completion.
During this process, we can compare and contrast the various design and style samples with your existing landscape, brick color and garage door.
Once the most appropriate style and color has been chosen, we can begin work on your walkway. Our expert landscapers in Oakville are known for their professionalism, dedication and sold workmanship – so you are always in the best hands!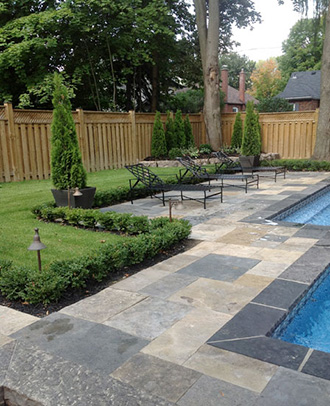 As your satisfaction is key in this process, we value your input throughout the completion of the walkway – as it allows us to deliver a final product you are 100% satisfied with.
Interlocking walkways are an inexpensive way to enhance the look of your home, as we only offer the most affordable and highest quality interlocking material. Our landscapers follow municipal and building codes to ensure the structural integrity of all our finished work, delivering the best in value for our final customer.
If your backyard or front facing yard is in need of a few upgrades, let the experts at Couture Landscapes handle the transformation. Our landscapers will promise a timely finish and provide pristine cleanup at the completion of the project.
Whether you're in Oakville, Burlington, Mississauga or the neighboring areas – we can help you with all your landscaping needs. If you're interested in hearing more about our interlocking walkways and driveways, please call us today at 416-707-9492.