Couture Landscapes in Oakville has helped numerous homeowners enhance the curb appeal of their front lawn. With the right style of front yard landscaping, you should be able to give your home an elegant entrance and eye-catching appeal.
Couture Landscapes is experienced in the design and construction of front yard landscaping, putting together different elements to help compliment the architecture of your existing home. In redefining the look of your front yard, there are numerous styles and themes you can choose.
Whether you'd like an interlocking stone walkway lined with plants and lush greenery or a more formal look – let our experts help you!
The exterior of your home gives visitors and neighbors the first impression, so ensure that you have the right theme in mind for your home. With the help of our expert landscapers in Oakville, you can expect a finished product that will leave you breathless.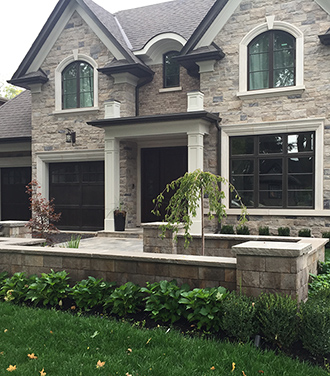 Couture Landscapes is an Oakville landscaping company that provides complete front yard landscaping services, including fencing, gardening, planting, furniture options, front porch and accent features. With the right combination of the many landscaping elements, you can quickly improve and enhance the look of your front yard.
If your current front yard is either overgrown, have dead plants and grass or simply lacking curb appeal, it may be time for an upgrade. Couture Landscapes brings together a large variety of creative landscaping ideas for the design of front yards.
For more information on our front yard landscaping services in Oakville, Mississauga, Burlington and the surrounding areas, please call us today at 416-707-9492 or contact us online!